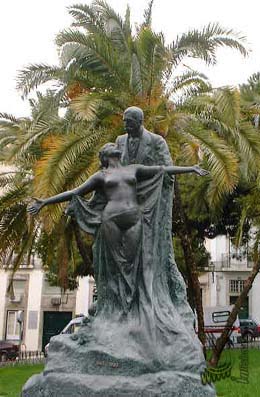 Coming down by Rua do Alecrim, walking to the river, we have Largo Barão de Quintela: a little garden with palm trees and a sculpture in homage to Eça de Queiroz, inaugurated in 1903, three years after the writer's death.
The author of the monument was António Teixeira Lopes (1866-1942) and was inaugurated in the beginning of the century, in 1903. The writer figures in an excellent realistic picture, which demonstrates the body's fragility and his posture. In an original iconographic solution, dynamic and elegant, this is a great representation of the ideal sculpture, faithful to the modulated heritage and to the themes, and also to the naturalist solicitation of envelopment with the present time. Conceived according to the Romanticism models, it presents the writer's figure, accompanied by an allegoric represen-tation of "the truth", by a woman's figure.
Explaining the thematic intencion, there is a scripture written, referring to the writer's literary activity, with his expression: "above the nakedness of the True, the diaphanous mantle of the Fantasy". The sculptural conjoined is inserted in the little square frontier to Quintela Palace and takes part of Chiado's urban culture memories.